TUF B450M-PRO GAMING
Steckplatz:
1x Socket AM4
Prozessoren:
Chipsatz:
AMD B450 I/O-Hub

Speicher:
4x DDR SD-RAM
DDR4 2133 - 3533
Steckplätze:

PCI Express x1 2.0
PCI Express x16 3.0 @x16
-
PCI Express x16 2.0 @x4
-
-

Storage-Ports:
1x M.2 max. 2280 (PCIe 3.0 x4) by AMD Ryzen CPU / APU
oder

1x M.2 max. 2280 (PCIe 3.0 x4) by AMD Athlon with VEGA
Shared with S-ATA5/6
1x M.2 max. 2280 (PCIe 3.0 x2) by AMD B450 I/O-Hub
(Shared with S-ATA Ports 3/4)
4x S-ATA600 by AMD B450 I/O-Hub
2x S-ATA600 by Ryzen
USB-Ports:
1x USB3.1 by AMD B450
3x USB3.0 by AMD Ryzen (1x Type C)
2x USB3.0 by AMD B450 optional
2x USB2.0 by AMD B450 (+4 optional)
Grafikausgänge:
HDMI 2.0
DVI-D

Sound:
Realtek® ALC S1220A Audio Codec
Netzwerk:
Realtek® RTL8111H
10 - 1000 MBit/s
Besonderheiten:
mehr Details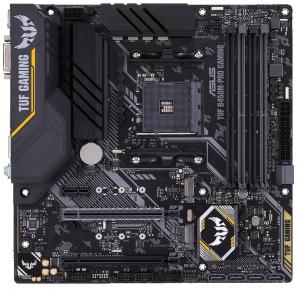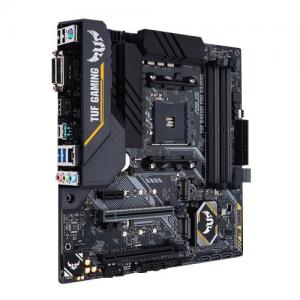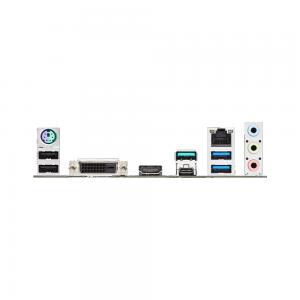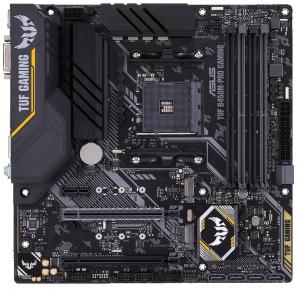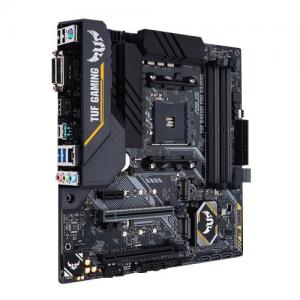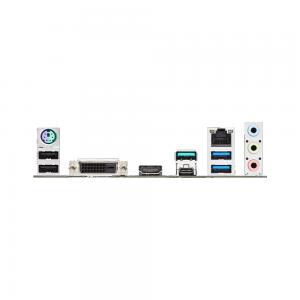 Beschreibung:
Das ASUS TUF B450M-PRO GAMING basiert auf die AMD B450 I/O-Hub und unterstützt die AMD Ryzen CPUs der Generation (Summit Ridge und Pinnacle Ridge) sowie die Ryzen- und Athlon-APUs auf Basis von (Raven Ridge). Der AMD B450 I/O-Hub unterstützt 2-Way AMD CrossFire X. Dabei ist die obere Grafikkarte bei Ryzen CPUs an vollen 16 Lanes angebunden, bei Ryzen APUs an 8 Lanes angebunden, die untere Grafikkarte wird lediglich mit PCIe 2.0 x4 angesprochen.

Das Mainboard unterstützt 2 M.2 Slots. Der obere kann mit den Ryzen CPUs und APUs mit dem PCIe 3.0 x4 laufen. Dabei werden die S-ATA600 5 & 6-Ports deaktiviert, die durch die Lanes des Prozessors bereitgestellt werden.
Der untere M.2-Slot unterstützt generell nur PCIe 3.0 x2. Dieser Steckplatz ist am AMD B450 I-/O-Hub angebunden und teilt sich die Lanes mit den S-ATA600 3 & 4 Ports.
Als Audio-Lösung setzt ASUS beim TUF B450M-PRO GAMING auf den Realtek® ALC S1220A Audio Codec. Für die Verwendung von 8-Kanal-Audio werden zwei Kanäle über den Klinkenstecker der Front-Blende angezwackt.