X370 XPOWER GAMING TITANIUM
Steckplatz:
1x Socket AM4
Prozessoren:
Chipsatz:
AMD X370 I/O-Hub

Speicher:
4x DDR SD-RAM
DDR4 3200
Steckplätze:

PCI Express x1 2.0
PCI Express x16 3.0 @x16
PCI Express x1 2.0
PCI Express x16 3.0 @x8
PCI Express x1 2.0
PCI Express x16 2.0 @x4

Storage-Ports:
S-ATA- / P-ATA-Ports
1x M.2 max. 22110 (PCIe 3.0 x4) by AMD Ryzen
oder 1x M.2 max. 22110 (SATA) by AMD 7th Gen.
1x U.2-Port shard with M.2-Slot 1
1x M.2 max. 2280 (PCIe 2.0 x4) shared with PCIe x16 2.0 @x4
2x S-ATA600 shared with M.2-Slot
4x S-ATA600 by X370
USB-Ports:
2x USB3.1 by ASmedia (Type A & C)
1x USB3.1 by X370 optional
4x USB3.0 by CPU
4x USB3.0 by X370 optional
3x USB2.0 (+4 optional)
Grafikausgänge:
Display-Port
HDMI 1.4

Sound:
Realtek® ALC1220 Codec
Netzwerk:
1x Intel® I211AT
1x 10 - 1000 MBit/s
Besonderheiten:
mehr Details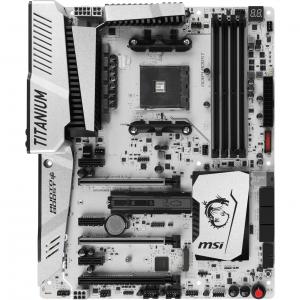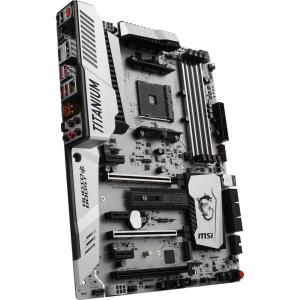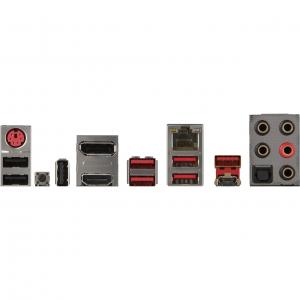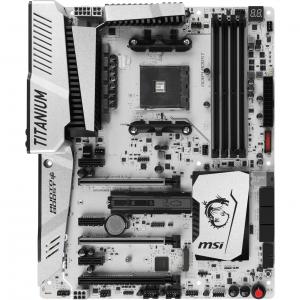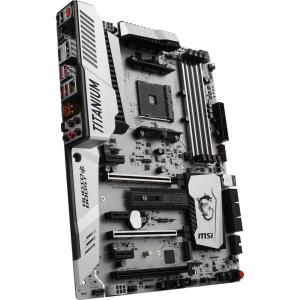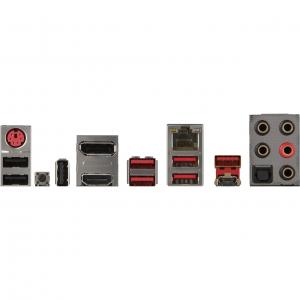 Beschreibung:
Auch das X370 XPOWER GAMING TITANIUM von MSI basiert auf den X370 I/O-Hub und fasst Prozessoren auf Basis der AM4-Plattform. Das Board unterstützt wie jedes gängige X370-Mainboard AMDs CrossFireX sowohl mit 2x 8 Lanes PCIe 3.0 als auch in Kombination mit den zusätzlichen 4 PCIe 2.0 Lanes als 3-Way CrossFireX. Sli ist lediglich als 2-Way SLi möglich.
Neben dem X370 GAMING PRO CARBON setzt auch das X370 XPOWER GAMING TITANIUM auf zwei M.2-Slots. Einer davon teilt sich die Lanes mit dem PCIe x16 2.0-Slot der insgesamt nur auf 4 Lanes läuft.
Desweiteren beinhaltet das Board sonst alle Schnittstellen, die dem Stand der Technik der AM4-Plattform üblich sind. Drüber hinaus befindet sich ein U.2-Anschluss, der sich allerdings mit dem ersten M.2-Slot alle PCIe 3.0 Lanes teilt.